Product Profiles
PCH Series
The Powerful Portable from Airflow Systems
The Airflow Advantages
Maneuverability A portable needs to be truly portable, and the PCH is built for mobility, with large casters, a heavy-duty, 25-foot power cord, and a low center of gravity for stability.
E-Z Arm 7' High-Flow Extractor E-Z Arm means easy to use: external friction joints ease adjustment without restricting air flow.
Powerful Self-Cleaning. With the push of a button, Vibra-Pulse provides unsurpassed filter cleaning for efficient performance and long filter life.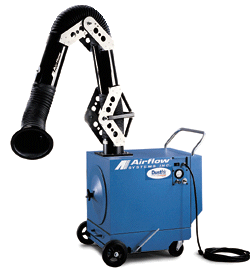 Specifications*
Blower Pkgs (HP): 0.5, 1.0, 1.5
Noise Level (dBA):65/70/74
Electrical: 0.5 HP - 115/1/60, 9.8 amps, opt.
1.0 HP - 115/1/60, 12 amps, std.
1.0 HP - 208-230/460/3/60, 3.6-3.3/1.7 amps, opt.
1.5 HP - 115/230/1/60, 15/7.5 amps, opt.
1.5 HP 208-230/460/3/60, 4.9-4.6/2.3 amps, opt.

Nominal Air Flow (CFM):600/800
Options*
Pressure Gauge Kit
10-ft. E-Z Arm High Flow Extractor
Custom Cartridge Media
After-Filters
65-Watt Halogen Light Kit
Dual 4 inch Arms
*Specifications and options refer to the PCH-1 unit (pictured). For more information visit
airflowsystems.com
.