Product Profiles
DC Series
Efficient Dust Collection from Airflow Systems
The Airflow Advantages
Innovative Baffling Our uniquely-designed tortuous-path baffling creates a pre-separator, causing the heaviest material to drop straight to the drum, and leaving more filter capacity for collecting the finer dust. This dust-handling feature enhances efficiency and extends filter life.
Exceptional Self-Cleaning Vibra-Pulse, which cleans filters 75% more effectively than reverse pulse systems, effectively handles even heavy dust loading, extending maintenance cycles and reducing downtime.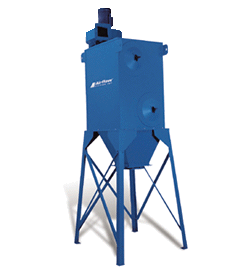 Specifications*
Blower Pkgs (HP): 3.0, 5.0
Noise Level (dBA): 90/78 with silencer (3 HP)
95/80 with silencer (5 HP)
Electrical: 3.0 HP - 208-230/460/3/60 8/4 amps
5.0 HP - 208-230/460/575/3/60 12/6 amps
Nominal Air Flow (CFM): 1000/1950
Options*
Pressure Gauge Kit
HEPA High Efficiency After-Filter
Absorption Module
Custom Cartridge Media
Hopper with Floor Stand
*Specifications and options refer to the DC-4 (pictured). For more information visit
airflowsystems.com
.