Product Profiles
E-Z Arm High Flow Extractors
Performance & Precision from Airflow Systems
The Airflow Advantages
Easy to Operate Rather than trying to accommodate their task to the hood position, workers need source capture that accommodates to their task. The E-Z Arm's patented friction release pawl-and-sprocket design engages positively when positioned, yet offers no resistance when moved. The large 13" diameter inlet hood offers 160º movement, and the 360º flange handle facilitates easy hood positioning.
Easy to Install Flat base bolts in place; HDPE bearing material works to seal the base without the need for collars or fittings.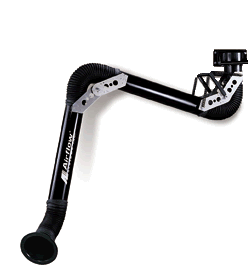 Specifications*
Arm Lengths: 7 ft. (E-Z Arm 7A07) , 10 ft. (E-Z Arm 7A10), 14 ft. (E-Z Arm 7A14)
Blower Pkgs (HP): .75, 1.5, 3.0, 5.0, 7.5
Nominal Air Flow (CFM): 600 to 1500
Options*
65 Watt Halogen Light Kit
Damper
Blowers
Silencer
Wall Brackets
Adjustable Height Floor Stand
Filtration Units
Boom Extensions
*Specifications and options refer to the E-Z Arm I unit (pictured). For more information visit
airflowsystems.com
.