Product Profiles
DTH Series
Self-Cleaning Downdraft Tables from Airflow Systems
The Airflow Advantages
Enhanced Dust Capture & Spark Trap Unique baffling provides uniform dust collection velocity across the entire work surface, routes the heavier dust straight to the dust drawer to leave more filter capacity for collecting the finer dust, and provides built-in spark arrestors for grinding applications.
Powerful Filter Cleaning With the push of a button, Vibra-Pulse provides unsurpassed filter cleaning for efficient performance and long filter life.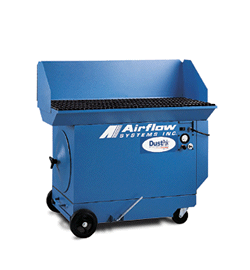 Specifications*
Blower Pkgs (HP): 1.0, 1.5, 3.0
Noise Level (dBA): 70/74/79
Electrical: 1 HP - 115/1/60, 12 amps, opt.
1.5 HP - 115/230/1/60, 15/7.5 amps, std.
3 HP - 208-230/460/3/60, 8.4-8.0/4.0 amps, opt.
Downdraft Velocity (FPM): 112/208
Options*
Pressure Gauge Kit
Regulator
Silencer
Custom Cartridge Media
After-Filters
Center Divider and Side Shields
Enclosures and Lighting
Casters
*Specifications and options refer to the DTH-1700 (pictured). For more information visit
airflowsystems.com
.